How to get free WordPress hosting & cheapest .in domain registration with SeekaHost.app? That is exactly what you will learn in this guide.
I've even included a step-by-step guide on how to install WordPress, and link your nameservers to the domain.
There's no clickbait here. If you came here after reading the title, you'll get exactly what the title says.
Let me prove it to you then?
Is the SeekaHostWordPress hosting truly free?
Before we start, I aim to make it clear what free here actually means. It's TRULY FREE. 100%.
Oftentimes, things which seem free aren't truly free. There are strings attached and that's disappointing, isn't it?
That's not the case with SeekaHost. Here is why the SeekaHost WordPress hosting is truly free:
No payment details (Credit card/PayPal)required.
No ads shown on your account.
The free account never expires. It's forever free.
No coupon code or discount coupons are required.
No mobile number or location verification required.
You get most of the features that a SeekaHost paid plan offers.
The only requirement to get the free WordPress hosting on SeekaHost is:
A valid e-mail ID. Doesn't even have to be your primary e-mail.
How to get free WordPress hosting?
This article is all about showing you how to get free WordPress hosting & cheapest .in domain registration, isn't it?
Let's first get you the free forever WordPress hosting from SeekaHost?
You first need to create a SeekaHost account.
Click this link. This will take you to the SeekaHost registration page. Fill in the details that it asks for.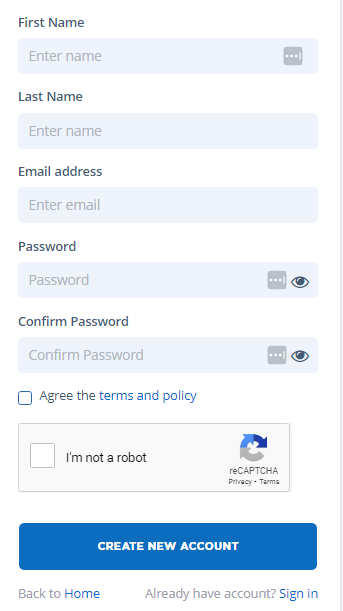 Verify the e-mail you used to sign up. Simply go to the e-mail ID you entered and you'll see a verification link. Click on it.
Now, let's get you the free WordPress hosting that you came here for?
Sign in to the SeekaHost account that you just created.
You'll be taken to your personal information page.Fill in this information, it only takes a minute or so. You should see that the monthly charges for this plan are displayed as EUR 0.00. Once you've filled in the form, click "Continue to Subscribe".
You should see a "Thank you for your order" confirmation page. This indicates that the free plan is now active on your account.
What will you get with the SeekaHost.app free WordPress hosting?
It's important we discuss this so you know exactly what you're signing up for. Transparency and all.
So, with every free server, you'll get:
500 MB space
3 GB bandwidth
Free migration if you already own a WordPress site.
One-click WordPress installer.
Ability to customize your WordPress before installing.
Malware and DDoS protection
Free SSL certificate
Free backups that can be downloaded in a single click.
Some of these features are pretty rare even for paid plans with some providers, don't you agree?
Getting the cheapest .in domain registration with SeekaHost.app
The "cheapest .in domain registration" in the title wasn't just clickbait. That's exactly what you'll be getting in the next few minutes.
Yes, SeekaHost.app also facilitates domain registrations. It's capable of registering almost every major TLD out there. However, for this piece, we'll focus on its .in extensions.
.in domain extensions are primarily used for Indian websites. However, that doesn't mean you'll lose out on any SEO benefits. If anything, it'll help boost your local SEO.
Here are the steps to do that:
Log in to your SeekaHost account if you aren't already logged in.
Click on "Domain names" (on the left-sidebar).
Click on "Register domain".

Enter the domain you need in the search box that you see and click "Search".
If the domain is available, you'd see a "We found a great name for you!" confirmation message. If it's not available, I suggest making a few changes to your domain name. Add prefixes/suffixes, try synonym words, shorten the domain etc. Anyway, once you've found an available domain, add it to your cart.
A summary of your cart is shown. Re-check the domain name to ensure that you've spelling it correctly and click on the "checkout" button.
The next page lets you select the no. of years you wish to register your domain for. Because you're looking for the cheapest .in domains, just click "next". Optionally, you can extend the no. of years you need the domain for on this page.
The next page shows you your personal details. All you need to do is click "next" on this page as well. SeekaHost automatically fetches these details for your account from when you availed the free WordPress hosting. Of course, you can change these details if you want to.
You'll finally be on the payment page. Choose how you'd like to pay for your domain and make the payment. SeekaHost accepts both cards as well as PayPal accounts.
Congratulations! You now own a .in domain.
Installing WordPress in a single click
Here's how you install WordPress after you've got both the server and the host.
Go to "Websites & blogs" -> "WordPress sites" -> click on "Create new WP site".

Enter your domain's URL and a name for your WordPress blog. Click on the "Free WordPress" plan under "Manage your subscription" and finally click on "Add blog".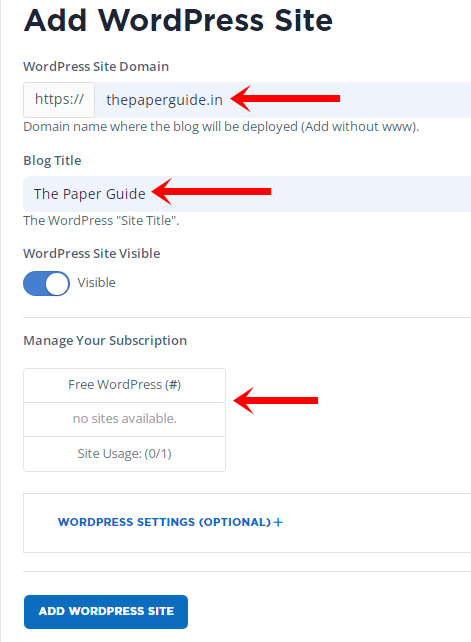 This will install your WordPress site in a few seconds.
Linking your domain to your WordPress host
Finally, we just need to link the domain to the host. The steps to do that are pretty easy as well:
Go to your WordPress site's control panel (Websites & blogs -> WordPress sites -> gear icon).
Copy the two nameservers you see.
Go to your domain's control panel
Unlock your domain (required so you can paste the nameservers).
Paste the two nameservers you just copied.
If you followed the steps correctly, you've done everything you need to do. Your domain will be functional in a few minutes.
SeekaHost.app paid hosting plans (optional)
SeekaHost.app obviously offers the WordPress server for free. However, if you need, they've also got over 2 dozen different hosting plans.
There are three primary server types (and dozens of plans for each server type).
PBN hosting
These can be used when building anonymous, de-linked and safe Private Blog Networks. Each of your blogs will get an unique IP address. 3 different IP sets are used (A/B/C) for these IP addresses.
The cheapest you can buy these for is $1.15/blog/month.
A-Class IP hosting
I use these for my most serious websites. These only offer A-class IP addresses. These are the most expensive and start at $2.00/blog/month.
WordPress hosting
These are what I use most commonly for my WordPress sites. These plans start at $1.49/month.
7-days free trial
In case the free trial isn't enough for you, you can also try SeekaHost.app's free trial for 7 days.
Yes, these are available even if you've already availed the forever free plan. You just go to the "Hosting plans" page and click on the 7-day free trial link for any plan.
Frequently Asked Questions
Here are answers to some of the most commonly asked questions after getting a cheap .in domain and free host:
1. Can I upgrade to a paid SeekaHost hosting plan later?
Certainly. Although, this process isn't automatic. You'll need to "migrate" your website. Thanks to SeekaHost's free migration, they do it for you, for free.
2. Can I upgrade specs on the free plan?
No. There's no "upgrade configuration" option. You get the 500 MB and 3GB on your package. There's no way to extend this unless you go for a paid plan.
Signing off- How to get Free WordPress Hosting & Cheapest .in domain registration with SeekaHost.app?
I hope you've learnt How to get free WordPress hosting & cheapest .in domain registration with SeekaHost.app, haven't you?
Let's be honest, even without this guide, I'm sure you could've figured it out on your own. SeekaHost's custom control panel makes things easy anyway.
I wouldn't waste more of your time here. Just go sign up for the free WordPress hosting and let me know how it goes for you.