If you are looking for a reliable and affordable cheapest WordPress hosting provider, MilesWeb is an ideal option for you.
As we know, half of the websites today are built-in WordPress. A free and open-source content management system, WordPress is available online. It is easy to use and offers the best tools, plugins and functionalities. And to host your WordPress site, you need WordPress hosting. WordPress hosting is a hosting service pre-configured to host a WordPress site efficiently and offer a money-back guarantee on WordPress websites.
MilesWeb is a web hosting company established in 2012 that offers fully managed WordPress Cloud Hosting by MilesWeb at a budget-friendly price. With the fully managed WordPress hosting, they take care of all the technical aspects of the hardware and software of your server. Focusing on your business is easier when you opt for managed WordPress hosting.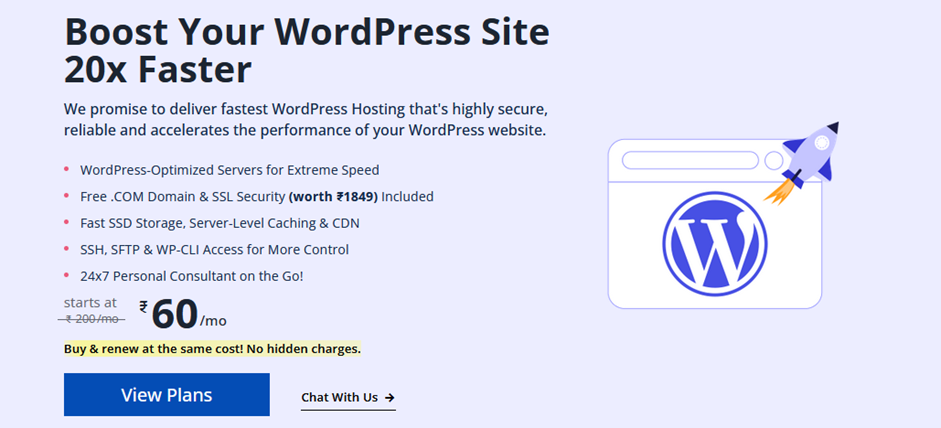 We will take a brief overview of MilesWeb's managed WordPress hosting plans, pricing and features in this article. On their WordPress hosting plans, you can take a 70% off!
Information About MilesWeb
MilesWeb launched in the year 2012, and since then, they have been providing reliable and affordable web hosting services.
The company has over 39,032 customers around the world. They offer numerous features to help you succeed in your online journey. MilesWeb has the best plans to meet the requirements of small, mid-size and large businesses.
To keep websites up and functional round the clock, MilesWeb offers a 99.95% uptime guarantee. And to help you deal with any concerns related to web hosting, they offer 24×7 priority customer support.
Features of MilesWeb WordPress Hosting
Free Domain Name
With the Prime and Multi WordPress hosting plan of MilesWeb, you get a .com domain name at no additional cost. The domain name is free for one year and, renewal charges are applicable from the second year. To get a domain name for free, you must purchase the web hosting plan for one or three years.
SSD Storage Drives
SSD storage drives are super-fast drives that boost the performance of your websites. MilesWeb hosts all websites on SSD storage drives to make websites run faster than before. The SSD storage drives deliver 200% better performance than traditional HDD drives.
SSL Encryption
An SSL certificate is included for free with MilesWeb's WordPress hosting plans. When you have an SSL certificate added to your website, you don't have to be concerned about security. Your website is safe from thefts and hackers and does not get prone to any breaches.
Preconfigured WordPress
WordPress is preconfigured for you to make site management easy with MilesWeb's WordPress hosting plans. Different themes and plugins get installed with every website of MilesWeb. It reduces the efforts for setting up configuring WordPress to run at an ideal speed.
WordPress Hosting Pricing
Here is the pricing section of MilesWeb WordPress hosting. Before choosing any web host, we first check if the pricing plans are affordable.
Some web hosts offer services at cheaper costs but, they might compromise on the quality or features. MilesWeb is a web host that offers cost-effective web hosting services and that too, without compromising on the quality.
Their services are highly reliable, super-fast and will help you succeed online. And the plus point is, their plans are affordable too.
WordPress hosting plans of MilesWeb start at Rs.60 per month on the subscription of three years. They have three plans Tyro, Swift and Turbo.
Conclusion
MilesWeb offers the best managed WordPress hosting on a budget. With their managed WordPress hosting, they offer top-notch features your website needs. Plus, you get 24×7 customer support from their expert team. Get started with MilesWeb's WordPress hosting and take your site online today.
Related: