Are you looking a free WordPress hosting for students? Here is the best one to host your new project. It's simple to get hosting using this article. Just read it, choose it and get it!
List of 7 Free WordPress Hosting for Students
Here is the list of 7 websites that provides WordPress hosting for 100% free. No provider charge a single penny for hosting. All are the best sources for students who want to host their website to testing instead of hosting in localhost.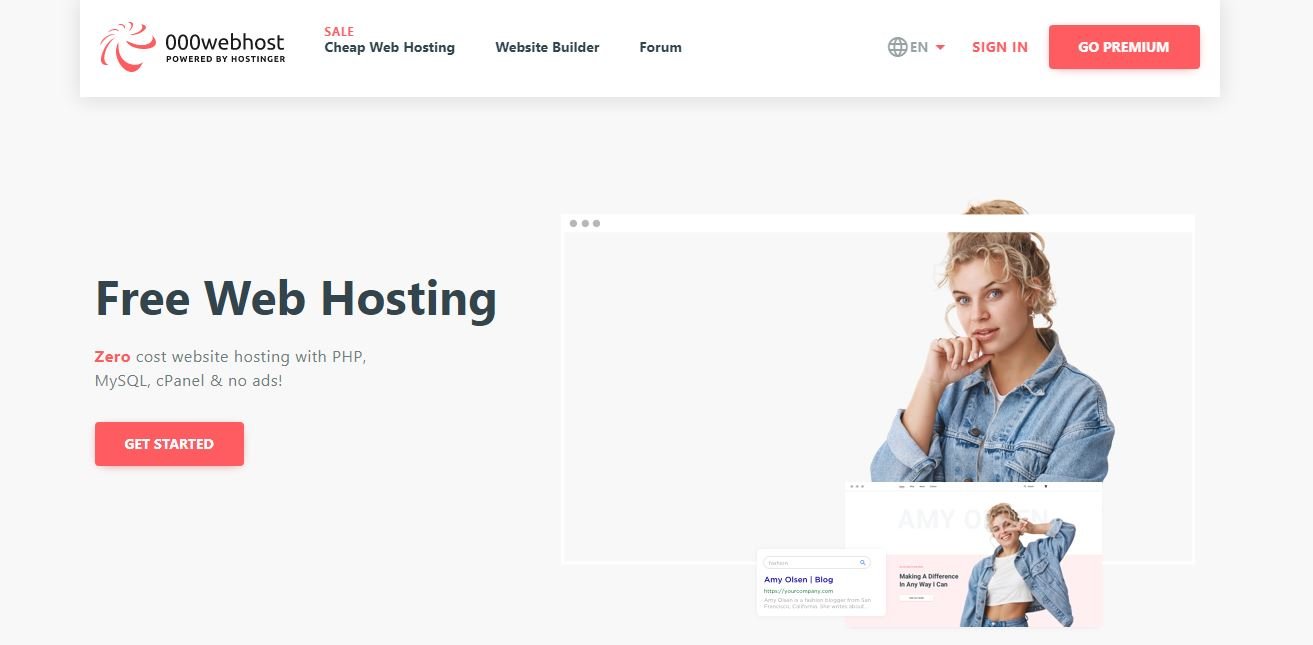 000webhost is the best using free web hosting provider because it offers your the highest uptime guarantee 99% at free of cost. You will get custom control panel to manage your hosting features.
Best features you will get with free hosting:
1 Website

300 MB Storage

3 GB Bandwidth

Cloudflare protection
1 MySQL Database
You will able to host 1 website and 1 MySQL database in the free plan. The best feature you will get in the best free WordPress hosting for students is Cloudflare protection. It will keep your project secure from attacks. Click here to start your new site for free on 000webhost.
---
WordPress is the most using CMS in the world. It's works as a blogging platform like Blogger and as a CMS like Joomla. Basically, WordPress is two types. First one is WordPress.com which is totally free blogging platform and the other is WordPress.org which is downloadable software CMS.
Almost 40% of websites are built in WordPress. You can get free hosting on this and start creating contents on it.
Best features you will get with WordPress.com:
Domain Customizable Facility

All-in-one Hosting

Powerful Statistics
Mobile Ready
Free Email
Although WordPress has paid plans with some extra facilities to handle your growing business. But initially, you are able to create your blog to build up the base. When your blog will be growing, you can easily move to the paid plans.
Blogs created on WordPress.com, are mobile friendly and fully secure because it has a security system. Another good side is, you will get free email forwarding facility. Click here to create your new blog on free WordPress.com hosting.
---
AccuWebHosting is one of the best ad-free WordPress hosting for students. To get your free hosting, you don't even need any credit card. It's free hosting for lifetime how much time you want to use.
Best features you will get with WordPress.com:
2 GB SSD Storage
5000 Monthly Visitors
30 GB Month Bandwidth
Shared CPU
Free Email Accounts
AccuWebHosting is may be the only provider that provides Pure SSD in the free hosting plan. Free cPanel is availabe to control your website hosting management. WordPress Auto Updater helps your blog updating automatically. Multi-layer DDoS protection ensures the blog's full security. Click here to get WordPress hosting for free now.
---
AwardSpace allows to host up to 4 website in it's free WordPress hosting plan. It ensures 99.9% uptime for your website. One-click app installer helps you to install popular CMS platforms in this free hosting service. This hosting service is 100% ad-free and no doubt the free WordPress hosting for students.
Best features you will get with free hosting:
Up to 4 Websites

5 GB Bandwidth

1000 MB Disk Space

Control Panel
phpmyadmin
Host your site for free in AwardSpace in just few clicks and control your hosting features by it's own control panel. It provides 24×7 customer support to fix your issues. Click here to get WordPress hosting for free now on AwardSpace.
---
FreeHostingNoAds is free web hosting provider that offers free WordPress hosting for students or others who need hosting. It's free hosting comes with PHP, MySQL, Email, Free Domain Hosting, Control Panel and many more features for your website.
Best features you will get with free hosting:
Free Domain Hosting
5GB Bandwidth
Free Email Address
Free Email Hosting
1GB Web Space
FreeHostingNoAds gives you app installer to install WordPress by one-click installation. 99.9% uptime is offered although it is a free hosting. You can add your custom domain name with it's free hosting service. Custom domain setup is very useful feature to make your website professional. Click here to get free WordPress hosting now.
---
FreeHosting is also a one of the popular free WordPress hosting provider based on Czech Republic. It's provides both free and paid hosting service. But free service is enough to get started. Here are some great features offered by this free hosting service.
Best features you will get with hosting:
100% Free Hosting for Lifetime
Hosting for Your Own Domain Name
Unmetered Bandwidth
10 GB Storage
1 E-mail Account
FreeHosting provides you cPanel to control your website management properly. You can install your desired app from the 400+ web applications. Custom domain based email you will get with the free hosting. No credit card require or no payment verfication is needed to start with FreeHosting. Click here to get free WordPress hosting now.
---
Freehostia is an ad-free WordPress web hosting provider for students and others. Anybody can get hosting for free here to host their WordPress site. It's the Chocolate free web hosting plan.
It allows you to install famous CMS like WordPress and Joomla by one-click installation feature. It's free of cost to make your site professional looking using this free hosting platform.
Best features you will get with hosting:
5 Hosted Domains
250MB Disk Space
6GB Monthly Traffic (Bandwidth)
3 E-mail Accounts
1 MySQL v.5 Databases
Besides these free features you will get 10MB MySQL Storage for free to store your database. It's like you will get cloud quality hosting for free. No limit of time to use this free chocolate plan. You can use as long as you want. Click here to get free WordPress hosting on Freehostia.
List of 3 Almost Free WordPress Hosting for Students
7 Free WordPress hosting for students described on above are totally free for getting their hosting service. But in case if you don't want to go with free hosting services because free hosting has some limitations. You can go with the following 3 WordPress hosting services which are almost free. These companies will provide you premium quality hosting just for a very little cost.
Hostinger is best cheapest hosting provider for 2023. It's one of the most popular hosting service under $1/month pricing. Launch your new WordPress site is very easy to setup in Hostinger with their one-click installation.
Best features you will get with hosting:
Free Domain

Unlimited Bandwidth

Free Email
Free SSL Certificate

Cloudflare
Hostinger provides 3 types of hosting services like Web hosting, WordPress hosting and Website Builder hosting. Weekly backups, Google Ads credit, Money back guarantee, WordPress management, FTP accounts and Cloudflare protection all are available with hosting packages. Click here to get hosting at $0.99/month.
---
Namecheap is the world's most using cheapest hosting provider. It provides a good performance although it charges low price for hosting. Actually, it's the most known and reliable for low cost hosting service.
Best features you will get with hosting:
SSD Storage

Free Domain Name

Free CDN

Unmetered Bandwidth
Free SSL Certificate
Namecheap provides a user friendly cPanel to manage the hosting features easily. Free SSL certificates will be automatically installed with hosting and domain. If you purchase any plan of Namecheap hosting, you will get advantage to personalized email service which will be your business domain based. Now Namcheap is offering 64% discount on shared hosting plans. Click here to get Namecheap hosting at $1.16/month.
---
MilesWeb is another best cheapest hosting provider for small and medium websites. Big discount 80% Off now on MilesWeb for new customers. It's the one on the top 3 companies of cheapest hosting provider in the world.
Best features you will get with hosting:
1 Free Domain

Trusted SSL Certificate

SSD Disk Space

Unlimited Bandwidth
Email Accounts
You will get a free domain and Cloudflare with any hosting plan you buy at the cheapest cost ever! 24×7 support is always available to fix any issue. Besides these, you will get some extra features like hotlink protection, backups, webmail access, litespeed server etc. to get more advantage. Click here to get premium hosting just for $0.60/month.
Conclusion
This is the list of top 10 free WordPress hosting for students. You can host your new website for free in any of the hosting providers. If you have any question, leave a comment in below or tell me the hosting name which you would like to use.
It's very easy to make money starting an affiliate marketing blog on WordPress. Are you thinking to start your new blog and make money as a professional level like $500/month or more? Check out this to go step by step.