The internet has become an important part of our day to day lives. Securing the right domain name is crucial for individuals and businesses seeking a digital presence. Among the players in the domain marketplace, Dynadot has recently undergone a remarkable transformation, emerging as a super-powered domain marketplace with a fresh new branding. With a revamped logo, enhanced user experience, powerful domain management tools, expanded domain offerings, and a supportive community, Dynadot has solidified its position as a leading destination for all things domain-related.
Dynadot Old vs New
In this blog post, we will discuss about the exciting changes that have taken place at Dynadot and explore how they have elevated their services to new heights, catering to the diverse needs of domain enthusiasts and professionals alike. Read Dynadot review to know more about this domain provider.
Introduction
In the ever-evolving landscape of the internet, domain names have become invaluable assets for individuals and businesses. The domain marketplace has seen various players striving to provide efficient and comprehensive services.
Domain names are unique. A specific domain name can not be sold to multiple people. Just think about it, you have a company or business offiline. And you are thinking make your business information online to get more popular. But somebody has bought a domain name exact with your busienss name or your personal name! Then there is no way get it again untill the previous buyer don't renew it after one year. You might get a domain name looks alike your business name but exact will be impossible.
And you might know domain name makes trust a lot. So, it is wiser to get your personal name domain name or your business name domain name as soon as possible.
One of the best place to get a domain name is Dynadot. Now we'll talk about more about this provider. Because it has recently gone under a rebranding period.
Revamping the Brand Identity
To mark this transformative phase, Dynadot unveiled its new branding, which encapsulates its commitment to empowering users with a robust and intuitive domain marketplace. The revamped logo combines modernity with simplicity, reflecting the company's forward-thinking approach. The vibrant color palette invokes a sense of energy and optimism, underlining Dynadot's dedication to providing a dynamic platform for domain name acquisition and management.


Enhanced User Experience
Dynadot's transformation goes beyond its visual identity, extending to its user experience. The revamped website boasts a streamlined interface that caters to the needs of both new and experienced users. Navigating the marketplace has never been easier, with intuitive search functionalities, well-organized categories, and informative domain listings. Dynadot's user-centric approach ensures that every interaction with the platform is smooth, efficient, and rewarding.
Superior Domain Management Tools
Recognizing the significance of comprehensive domain management, Dynadot has introduced a suite of powerful tools to help users maximize the potential of their domain names. From DNS management to bulk domain operations, Dynadot equips users with all the necessary features to efficiently handle their portfolios.
Additionally, the platform offers advanced security measures and domain privacy services, safeguarding users' assets and personal information.
Expanded Domain Offerings
One of the most exciting aspects of Dynadot's transformation is its expanded domain offerings. The marketplace now boasts an extensive selection of domain extensions, catering to a broad spectrum of interests and industries. Whether you're looking for a classic .com domain or a more specialized extension that aligns with your niche, Dynadot has you covered. With their comprehensive search filters and innovative recommendations, finding the perfect domain has never been easier.
Community and Support
Dynadot understands that a thriving domain marketplace is built on the foundation of a strong community. To faster collaboration and support, the company has revamped its community forums and expanded its knowledge base. Users can engage in discussions, seek guidance, and share their expertise, creating a vibrant hub for domain enthusiasts and professionals alike.
Moreover, Dynadot's customer support team is renowned for their responsiveness and expertise, ensuring that users receive prompt assistance whenever needed.
Dynadot New Plans and Pricing Overview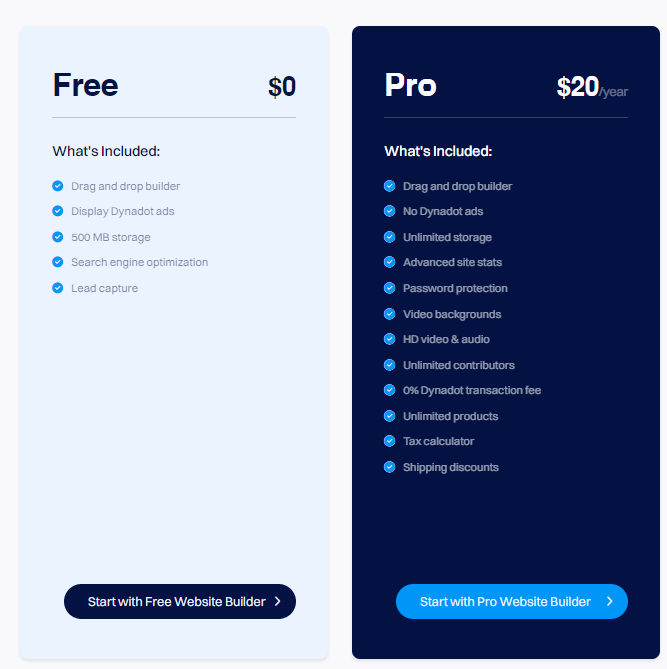 Conclusion
Dynadot's transformation into a super-powered domain marketplace with its new branding represents a significant milestone in the industry. By combining a refreshed visual identity, enhanced user experience, robust domain management tools, expanded offerings, and a supportive community, Dynadot has positioned itself as a leading destination for domain name acquisition and management.
Whether you're an individual looking to establish an online presence or a business seeking to strengthen your brand, Dynadot empowers you to navigate the ever-expanding digital landscape with confidence and ease. Happy try!
How To Buy a Domain Name in New Dynadot Website